The trade zone of Myawaddy was closed by the military council, and the KNU and the military were at a standoff
The Thai-Myanmar trade zone in Myawaddy, Kayin State has been closed by the military council starting at 1:00 p.m. today, August 18. It is reported that the military council has closed both import and export in the trade zone, and the area has been taken over by the military council army.
"I was ordered to close at 1 o'clock in the afternoon with a verbal order. asked to clear everything, Now they (the military council) have taken their place. I don't know why. These days, there is a fierce battle in Myawaddy and Kokarate. I don't know if that's the reason," said a freight forwarder who asked not to be named for security reasons.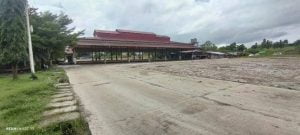 It is reported that the Military Council Army has moved the families of police personnel from Thinkan Nyinaung Police Station to Myawaddy township. Starting this morning, the KNLA and PDF joint forces have been attacking the Border Guard Force (BGF) camp located at Kuon Khon Kone Bay on the Myawaddy Asia Road and the old Ukbolte Mountain on the Myawaddy-Kokkarate Road.
It is known from truck drivers that the Myawaddy-Asia highway has been blocked since this morning. On August 15th, the KNLA and PDF joint forces attacked the district police station, township police station and bank security post in Kokkarate city, killing 12 people, including the police chief, and fierce fighting has been going on in Kokkarate city and Myawaddy.