Population and Demography of Yangon
Yangon is the most populous region in Myanmar. Because of the metropolitan area of Yangon, the economic center of Myanmar has been attracting domestic as well as international investment and growing rapidly.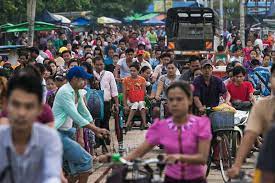 YUMRT alignment falls within Yangon city located in the Yangon region as shown in the figure below. According to the census 2014, the population of Yangon city is 5,211,431 persons, accounting for 70.8% of the population of the Yangon region and 10.1% of that of the country. The urban population of Yangon region is 70% among which Yangon city has the significantly high population density of 9,048 persons/km2. On the other hand, the average number of family members in Yangon city is 4.4, a slightly lower than that of Yangon region which is 4.7.
The population of study area is summarised in the table below. It is formed with four districts, 45 townships and 1,364 wards and village-tracts.