Charles Bridge
There are many places to go around in Europe. Venice city in Italy, Eiffel Tower in France and ski resort in Switzerland are world famous places. 
I'd like to talk about here is Charles bridge of Czech Republic. Czech Republic is one of member states of EU. Czech Republic is  mostly hilly landscape and very beautiful places.
The capital of Czech is Prague in which world famous Prague castle, Prague astronomical clock and Charles bridges are there. 
Charles bridge is a kind of Medieval stone arch bridge that crosses the Vltava river. The bridge connect Prague castle and old town Prague. The bridge was started to construct in 1357 and finished in the early 15th century. 
Charles bridge is 516 meter long and nearly 10 meter wide.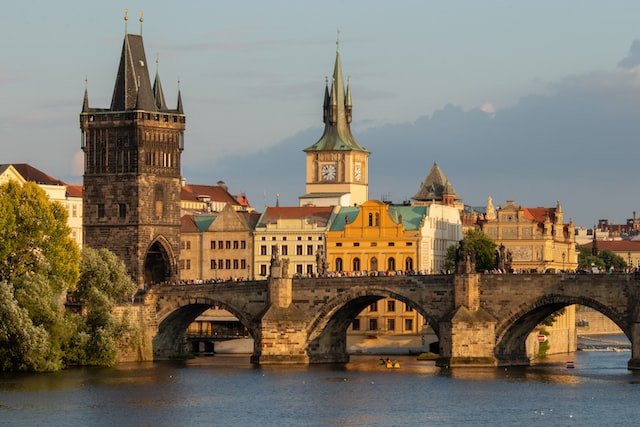 There are about 30 statues decorated the bridge, various saints and patron saints.
The popular legend states that Saint John of Nepomuk was tortured and thrown from the Charles bridge in chains. The statue of Saint John of Nepomuk is 8th statue of the right from the old town square towards to Prague castle. It is supposed to bring good luck and to ensure to come back to Prague soon, you have to touch the stars of the statue and make a wish. 
In the evening, the bridge is full of not only tourists but also artists, painters, musicians and souvenir vendors. There are very good restaurants beside the river and you can have a wonderful time with world famous Czech beer.