Among the 18 corpses found in Yin Paung Tai village, 2 young women were raped and killed.
It is known that 18 bodies, including two bodies of those who were raped and killed, were found in Yin Paung Tai village of Yin Ma Pin Township, which was attacked by the Military Council Army, until August 18th.
A 16-year-old woman and a 20-year-old woman were found raped and killed by military council soldiers in the southeast of the village, said an official from the Chindwin Roma Alliance Army.
"The two girls who came from another village to buy the market, that day (August 11th) were shot at by a helicopter, so they ran away. They ran to the east of Yin Paung Tai and the helicopter dropped the first soldiers in the east, so maybe those soldiers entered the village and met these girls. Two students, including a ninth-grade student, were found raped and killed on the side of the cliff," he said.
On August 11th, at 3:00 p.m., the two young women were shopping at Yin Paung Tai village market when the military council army suddenly fired at them from the air.
"The sign of rape and murder is that the two little girls have no clothes. One of the older girls only had a shirt. They are about 30 feet apart from each other. Nearby, we saw military boots and things that were struggling," said the officer in charge of the Chindwin Roma Alliance Army.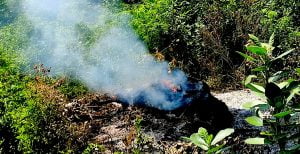 In response to the phone call, he said that although the defense forces took photos of the corpses, there was a problem with the internet to send them to the media. Although the identity of the two young women has been identified, the exact names of the two women have not yet been revealed due to their embarrassment, said an official of the Chindwin Roma Alliance.
The village of Yin Paung Tai is about seven miles away from the city of Yin Mar Pin and is a large village. The village market place was crowded with shoppers when it was suddenly attacked by the military council. It is known that the military council column which is patrolling the border between Yii Mar Pin and Pale is currently stationed in Ka Pai village, which is about five miles away from Ring Pau Tai, and is burning houses.
It is reported that the residents of Yin Paung Tai village and nearby villages are still fleeing because of the high risk of returning to the village.